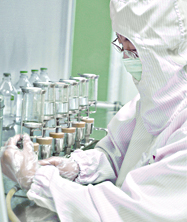 SSY Group Limited, registered in the Cayman Islands, is being listed in HK Main Board in 2005 (stock code: 2005).
The Group manufactures and sells a wide range of pharmaceutical products mainly intravenous infusion solution, primarily through Shijiazhuang No.4 Pharmaceutical Co., Ltd., a wholly owned subsidiary in China. Previously a small workshop manufacturing sanitary materials, Shijiazhuang No.4 Pharmaceutical was founded in 1948. It started the manufacturing of intravenous infusion solution in 1968. After more than sixty years of development, Shijiazhuang No.4 Pharmaceutical has now become one of the leading enterprises in intravenous infusion solution business in China, and has the largest intravenous infusion solution production capacity globally in terms of a single factory. It manufactures intravenous infusion solution products with different forms of packing including non-PVC soft bag, PP plastic bottle and glass bottle and with around a hundred types of product specifications. Shijiazhuang No.4 Pharmaceutical has the best-selling products in China market, and is the largest manufacturer in China in exports of intravenous infusion solution products.
The production lines of Shijiazhuang No.4 Pharmaceutical have combined the world's most advanced equipments and technologies, achieved full automation and information in production and logistics processes, and reached the international advanced level. The Group has distinct advantages in green production including low-cost, low-power consumption and zero-pollution.
Shijiazhuang No.4 Pharmaceutical has the business philosophy of "Openness basing on sincerity helps people by quality", regards the product quality as our lives, and strictly follows the GMP requirements in organisation of production. It establishes and implements superior ideas and initiatives in services. With excellent product quality in establishing the perfect "Shimen" brand, the social visibility and reputation of the enterprise has been soaring. The enterprise and its products have been awarded "Unit without Complaint in Quality", "Customer Satisfied Product" and "Chinese Famous Trademark" and other honors.
With the leading products in intravenous infusion solution, the Group is also involved in the research, development and production of small volume injections, oral preparations, Chinese medicine preparations and biological preparations. It is foreseeable that in the near future, these products will also bring an important contribution to the Group's development.